Flying Officer Jim Comans DFC and Bar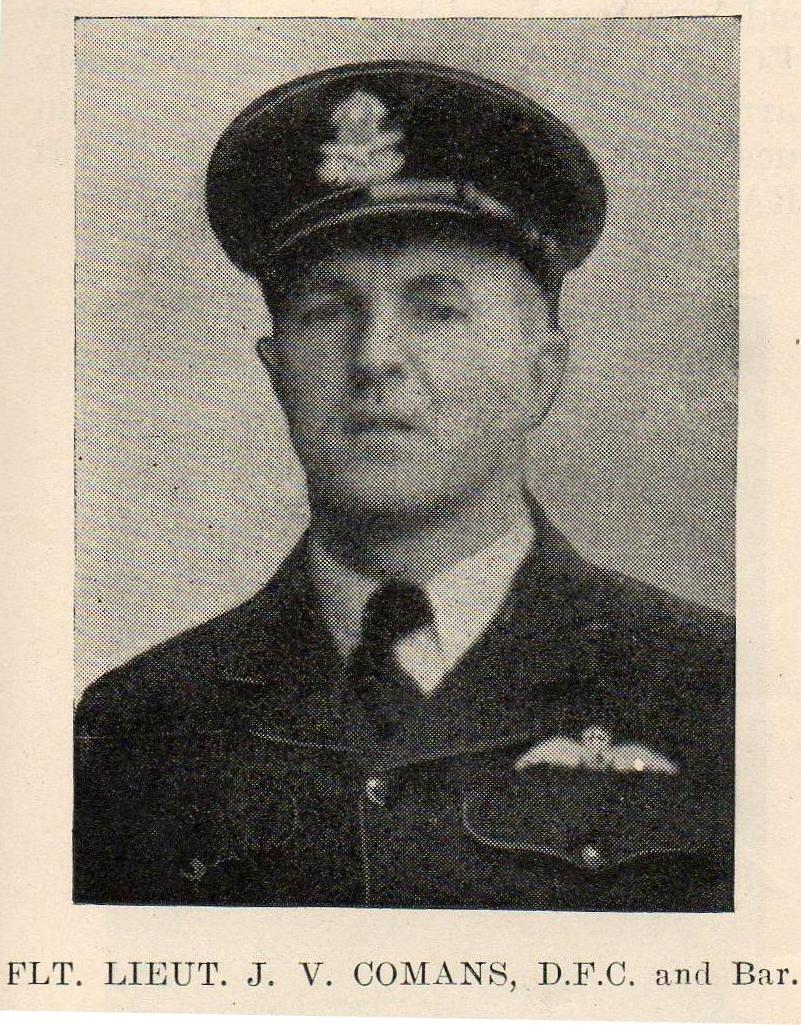 Flying Officer Jim Comans DFC & Bar
Royal Australian Air Force & 97th Squadron Royal Air Force
James Leopold Vincent Comans was born on the 2nd of March 1917 in Redfern and was educated at Marist Brothers High School, Darlinghurst, where he excelled in both the academic and sporting arenas. After leaving school, Comans studied law at the University of Sydney and played 1st Grade Rugby there between 1932 and 1936. He became a solicitor and worked with a firm at Rose Bay, and although he ceased playing football he maintained an active interest in the game throughout his life. Comans enlisted for service as a Pilot Officer in the Royal Australian Air Force in August 1941 and trained at Bradfield Park, Mascot and Mallala, New South Wales before embarking for service in Europe in 1942. Once arriving in England, he was attached to the British Royal Air Force and served as a Lancaster bomber pilot until the conclusion of the War. During the war, Comans never flew with another Australian.
His only plane crash occurred on his first mission, when he was acting as second pilot. The bomber he was flying in was travelling through some extremely heavy cloud over the ocean and the pilot dived below the cloud, misread the altitude of 100 feet as 1000 feet and ploughed straight into the sea. Only Comans and the wireless operator managed to escape the sinking plane as it broke up underwater, and they drifted for 2 days in the emergency dinghy until being picked up by a fishing vessel. No plane had come to look for them as the wireless operator had no time to send an S.O.S. before impact. The five other men in the crew drowned, and it is remarkable that Comans returned to flying only three days after surviving such an horrific ordeal.
Comans went on to pilot over 100 separate bombing missions over Germany and occupied France during the war. It was for his "coolness and courage in times of stress" that he received the Distinguished Flying Cross in June 1944. The award citation was glowing in its praise for Comans, who was hailed as;
"…an outstanding Captain…whose excellent leadership and skill as a pilot have been largely responsible for the many successes gained by his crew."
He was further decorated for his devotion to duty when he was awarded a Bar to his DFC in October 1944, equivalent to winning the award twice. During the D-day campaign in June 1944, Comans bombed enemy factories, fuel dumps and railway targets in the German-occupied areas of France, and later flew over the cities of Berlin, Munich, Frankfurt and Leipzig.
After the War ended, Comans returned to Australia, received an honourable discharge from the Air Force in October 1945 and resumed his career as a solicitor. Jim Comans often represented sportsmen in his practice and he became an influential man in the football and racing communities, serving on the Committee of the Australian Jockey Club and as Chairman of the New South Wales Rugby League Judiciary from 1980 to 1986. He was a feared but revered Chairman who made it his mission to stamp out violence and foul play, and he successfully helped to clean up the thuggish image of the game that was prevalent throughout the 1970's. Jim Comans DFC & Bar died on the 30th of July 1992 aged 75, and is remembered as a tough, fair, brave and good bloke. He was survived by his wife Joyce, whom he had married during the War.
Photo courtesy of S.D. Coleman & M.C.C. Archives
Historian: Scott Coleman
Email: scottandrhondacoleman(a)live.com.au