Private Michael William Victor Curnow M.M.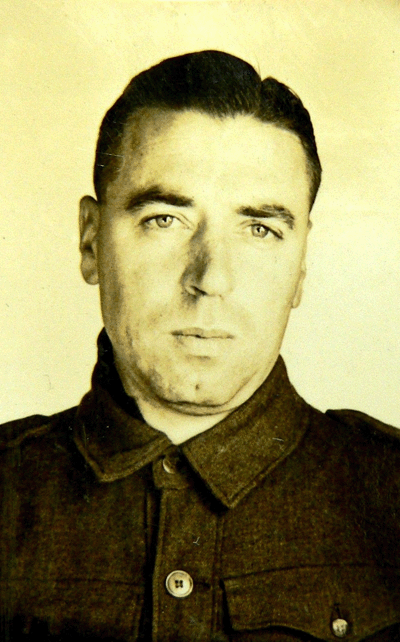 2/19th Battalion, Australian Army.
Michael Curnow M.M. (1909-1989) was an Old Boy of Marist Brothers High School Darlinghurst who served with distinction during the Second World War.
Born in Sydney on the 20th of July, 1909, Mick Curnow was educated at St. Patricks and MBHS Darlinghurst before joining the NSW Public Service. He enlisted as a Private in the Australian Army in June 1940 and served in Malaya, fighting bravely in the Battle of Muar with the 2/19th Battalion, which suffered the greatest number of casualties of any Australian Army unit during the war. As the Japanese pushed their way toward Singapore in early 1942, Mick Curnow distinguished himself as an able soldier by providing swift and valuable information on the positions of the enemy. During engagements with the enemy on the Australia Day 1942, Private Curnow; "…showed conspicuous gallantry and great devotion to duty, continuously moving over his area, gaining invaluable information of enemy movements. He was often observed moving across ground swept by enemy fire, to achieve his object."
For his gallantry on that day Curnow was awarded the Military Medal (M.M.) 'For Bravery in the Field.' His commanding officer, Lieutenant Colonel Charles Anderson M.C., was awarded the Victoria Cross (V.C.) for Valour during the same battle. Less than a month later Singapore fell to the Japanese and he was captured as a Prisoner of War. Curnow was imprisoned for three years in Changi POW camp, amid the atrocities committed by the Japanese captors there toward Allied POW's.
Returning home after the War, Curnow received his Military Medal at an investiture in 1947 from HRH The Duke of Gloucester, brother of HM King George VI. He went on to a successful career in the NSW public service, most notably as Manager of Government Stores, and died at the age of 80 on the 24th of July 1989.
His son, Brother Michael Curnow (also an Old Boy of MBHS, Darlinghurst), donated his Military Medal to Marist College Canberra in 2010 and it has recently gone on display in the 'Hall of Fame' there. Other items on display include Mick Curnow's slouch hat, POW ration tin and compass. Poignantly, the compass was given to him during the Battle of Muar by two of his friends and comrades, Private Kevin Mahon and Private Jack Rescorl, on the 21st of January 1942. Many years later Curnow wrote; "I can never forget these two. My compass was waterlogged after being so long in the water at Parit Sulong, but they both had a compass each. They gave me a compass… this does not sound much but the whole of our existence was to depend on a good reliable compass. Such are the friends we made in the 2/19th Battalion." The next day, both Mahon and Rescorl were killed in action.
Historian: Scott Coleman
Email: scottandrhondacoleman(a)live.com.au