Captain Walter Gilchrist MC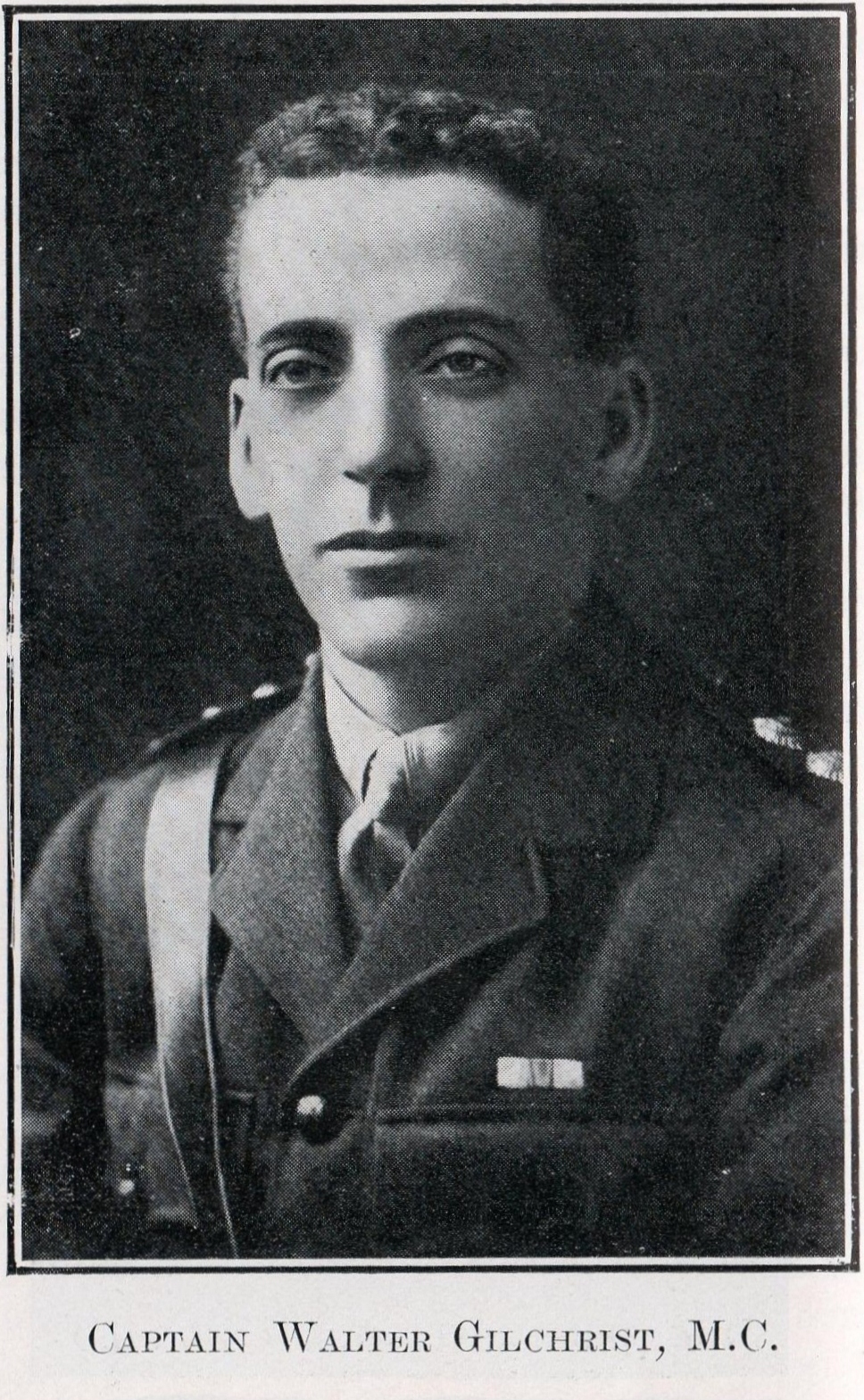 Walter Richard Gilchrist was born in 1890 in Paddington, Sydney and attended Marist Brothers High School at St. Mary's Cathedral as a boy. He had trained as an Engineering Surveyor before enlisting in the Army on the 8th of September 1914, aged 24 years and 10 months, and his skills were put to good use in the Australian Engineers Division during the War. Gilchrist's first posting was to Gallipoli, and he quickly rose through the ranks of the Army; from Private in 1914 to Captain by 1916. During his service in The Great War, he was posted to many places, including Belgium, Anzac Cove and Gallipoli in Turkey, the ancient Egyptian cities of Heliopolis and Zeitoun in Cairo, Mudros in Greece, Alexandria in Egypt, Moascar on the Suez Canal and Marseilles, Passchendale and Pozieres in France.
Gilchrist was mentioned in despatches in August 1916 "for good conduct in connection with the recent hard fighting round Pozieres, France." In the same year, his initiative and devotion to duty on the 20th of October was to be recognised with a Military Cross. That day, Gilchrist provided "…reliable and early information…" to Infantry Brigade Headquarters;
"Lieut. Gilchrist rendered plucky and valuable assistance in guiding parties to their destination under fire. [His] services have been of a most distinguished nature throughout these operations and have maintained the high standard reported during the first Pozieres action."
He was awarded the Military Cross a month later, yet he was to die tragically in France on the 3rd of May 1917. He was reported to have been buried in an isolated grave 200 yards South South-East of Pozieres but by end of the War the exact location of his grave was lost. As a result, his name is recorded on the National Memorial to the Missing at Villers-Bretonneux in France. A fine posthumous portrait of Walter Gilchrist in oils by Florence Rodway is preserved at the Australian War Memorial in Canberra.
Upon Walter's death his older brother Albert Richard Gilchrist (who was also on active service in France) was sent his brothers kit bags while his mother Mary Gilchrist was sent his personal belongings. Tragedy struck the Gilchrist family again when Albert was also killed on the 1st of September 1918. Unlike his brother, Albert lies in a marked War grave at the New British Cemetery at Assevillers, France.
Photo courtesy of S.D. Coleman & M.C.C. Archives
Historian: Scott Coleman
Email: scottandrhondacoleman(a)live.com.au