Brig. Frederic Brock HINTON OBE MC ED JP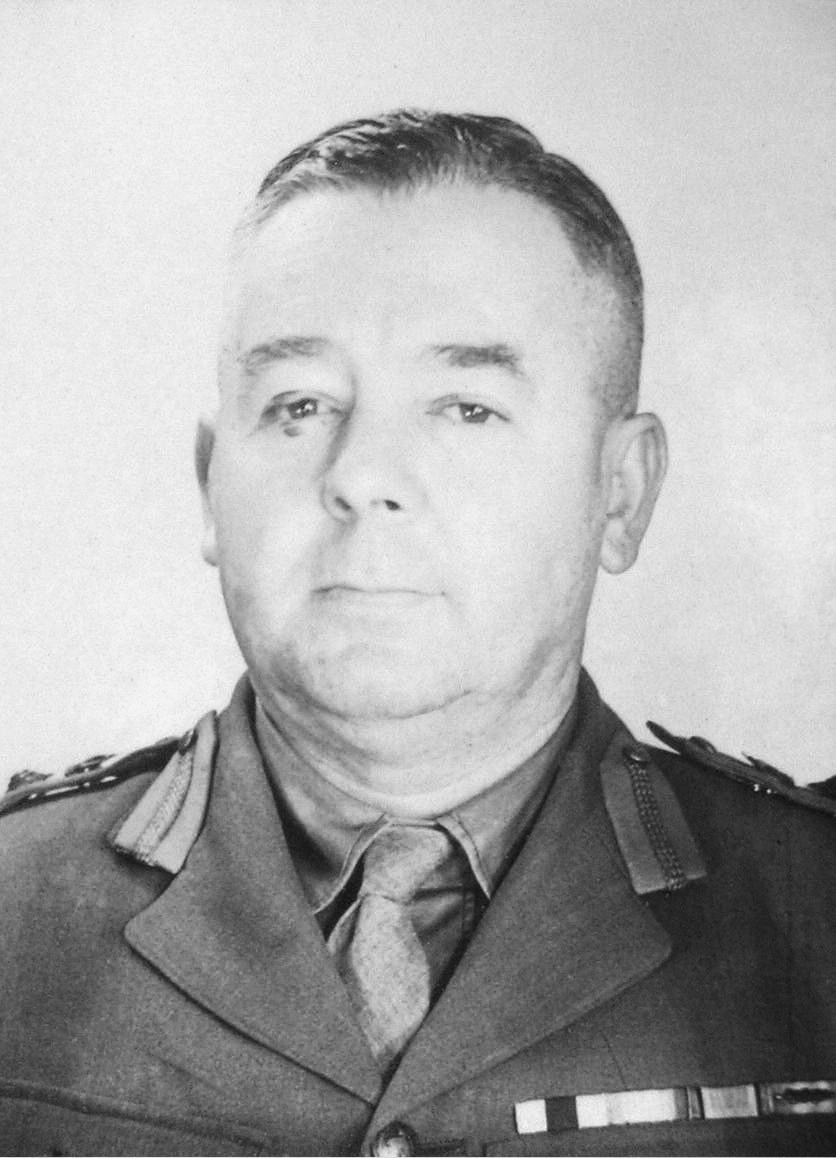 Distinguished Soldier, Alderman, Farming Expert & Advocate for Ex-servicemen
Frederic Brock Hinton was born on the 16th of October 1892 at Parramatta, New South Wales, the son of Elizabeth Brock Friendship and Arthur Langley Hinton. Arthur Hinton was an accountant and one-time Alderman of Parramatta, and young Frederic was destined to follow his fathers' example of public service throughout his life. Frederic was taught at state schools and the Fort Street High School, Petersham until the last three years of his education when he attended the Marist Brothers School at St. Mary's Cathedral. After finishing high school, he studied farming and agriculture and was awarded a scholarship to Wagga Experimental Farm, where he graduated Dux at the end of two years.
Hinton enlisted in the Australian Imperial Force at the outbreak of the First World War in 1914, and after first being rejected as too short from the 6th Light Horse he joined the famed 7th Light Horse regiment. Before leaving for the Middle East he married his sweetheart Irene in October 1914, with whom he had a daughter named Eunice. Trooper Hinton was promoted to Sergeant whilst en route to Egypt in December that year, and later served at Gallipoli for nine months. He proceeded from Gallipoli to France in 1916 and was attached to the 12th Machine Gun Company. In August 1916 the newly promoted Captain Hinton found himself in command of a company of men at the front after their commanding Officer was shot, and he was subsequently recommended for a Military Cross (MC) by Brigadier General Duncan Glasfurd;
"For thorough good work in training the Company… and commanding it action at POZIERES… when the Company Commander was incapacitated."
He was promoted to Major at Passchendaele and was Mentioned in Despatches twice. After being discharged from the Army in 1919 he continued his education in farming in the United Kingdom at Leeds University and Bradford Technical College, and in 1920 was appointed as a Sheep and Wool Expert within the NSW Department of Agriculture.
Hinton eventually left government service, bought a grazing property and settled in the town of Canowindra in country NSW. There he became a prominent member of the community; being elected to the Waugoola (now Cowra) Shire Council in 1926 and serving for twelve years – two of them as Shire President*. Hinton was appointed a Justice of the Peace (JP) in 1926, served as Coroner for Canowindra and represented NSW as Honorary Vice-Consul for Haiti for four years. His knowledge and expertise in Sheep farming made him a respected Judge of sheep in Agricultural shows and competitions, and he won the Championship for Fodder Conservation at the Royal Agricultural Show three times. Hinton served for five years as Vice-President of the British Sheepbreeders Association of Australia, and also as Vice-President of the Longwool Sheepbreeders Association.
Throughout the years between the World Wars, Major Hinton remained in the Citizens Military Force and held various positions of command, including the 6th Light Horse Regiment at Orange for four 4 years (during the Depression) and the 4th Cavalry Brigade. He was promoted several times - ultimately to the rank of Brigadier in 1938. With the clouds of war looming, in 1939 he proceeded to the United Kingdom to undertake various attachments in the British Army, including in the Coldstream Guards, Irish Guards, Cheshire Yeomanry and the 17th Lancers.
Brigadier Hinton entered active service again after the outbreak of the Second World War and in 1940 was appointed to command the Recruitment Reception Depot at Sydney Showground, where the strength of men rose to over ten thousand. In 1941 he was appointed to command a new Commando Force, but this appointment was superseded when Major General [later Lieutenant General Sir] John Northcott ordered the formation of the 1st Armoured Division that July. Unfortunately, Brigadier Hinton's military service came to an abrupt end when he suffered the first in a series of heart attacks in 1942, and his years of meritorious service were recognised by the award of the Efficiency Decoration (ED) following his retirement.
Despite lingering heart problems, Brigadier Hinton devoted himself to multiple charitable organizations for the rest of his life, and he was an active President, Patron or Life Member of many of them. In particular he worked unremittingly for the welfare of returned soldiers and set up ex-servicemen's associations that continue to run today – most notably the Royal Australian Armoured Corps Association, of which he was Foundation President and later Patron. The "F.B. Hinton Scholarship Trust" survives to this day as a permanent memorial of his service to the R.A.A.C.A. Brigadier Hinton was the first person to call meetings of all Australian ex-servicemen's Associations to form a committee, and he travelled to New York, Paris and London to support the World Veterans Federation. He was also elected to the Royal Humane and Shipwreck Society and the Good Neighbour Council, and was a strong anti-communist. An active supporter of the School Cadet Movement, he regularly visited Marist Brothers High School, Darlinghurst and other schools to inspect the Military Cadets on parade and to present awards.
For his prolific civic service to ex-servicemen's organizations and the community, Brigadier Hinton was made an Officer of the Order of the British Empire (OBE, Civil Division) in the Queen's Birthday Honours List in 1968. He died less than a year later in England on the 9th of May 1969; a credit to his old school and to the nation to which he had given lifelong service.
*Hinton served on many other boards and councils in Canowindra. He was elected as President of the Canowindra Show Society, the Canowindra Race Club, the Canowindra Sub-Branch of the R.S.L. (later Patron), the Canowindra Agricultural Bureau and the Canowindra War Memorial Hospital Board (later Life Member). He was also Chairman of the Lachlan Valley Boy Scouts' Association and Patron of the local Dramatic Society. In the 1960's it was noted by a colleague that whilst serving in these positions he "…never received or expected any re-imbursement for travelling or out-of-pocket expenses." Brigadier Hinton was also a keen tennis and golf player, and was a member of the Imperial Service Club, C.T.A. (Commercial Travellers Club), Manly Golf Club and the Royal Automobile Club of Australia (Sydney).

Earlier photograph as Major Fred Hinton MC.
Photos courtesy of S.D. Coleman & M.C.C. archives
Historian: Scott Coleman
Email: scottandrhondacoleman(a)live.com.au