Air Commodore Arthur Edward Mather DFC AFC AE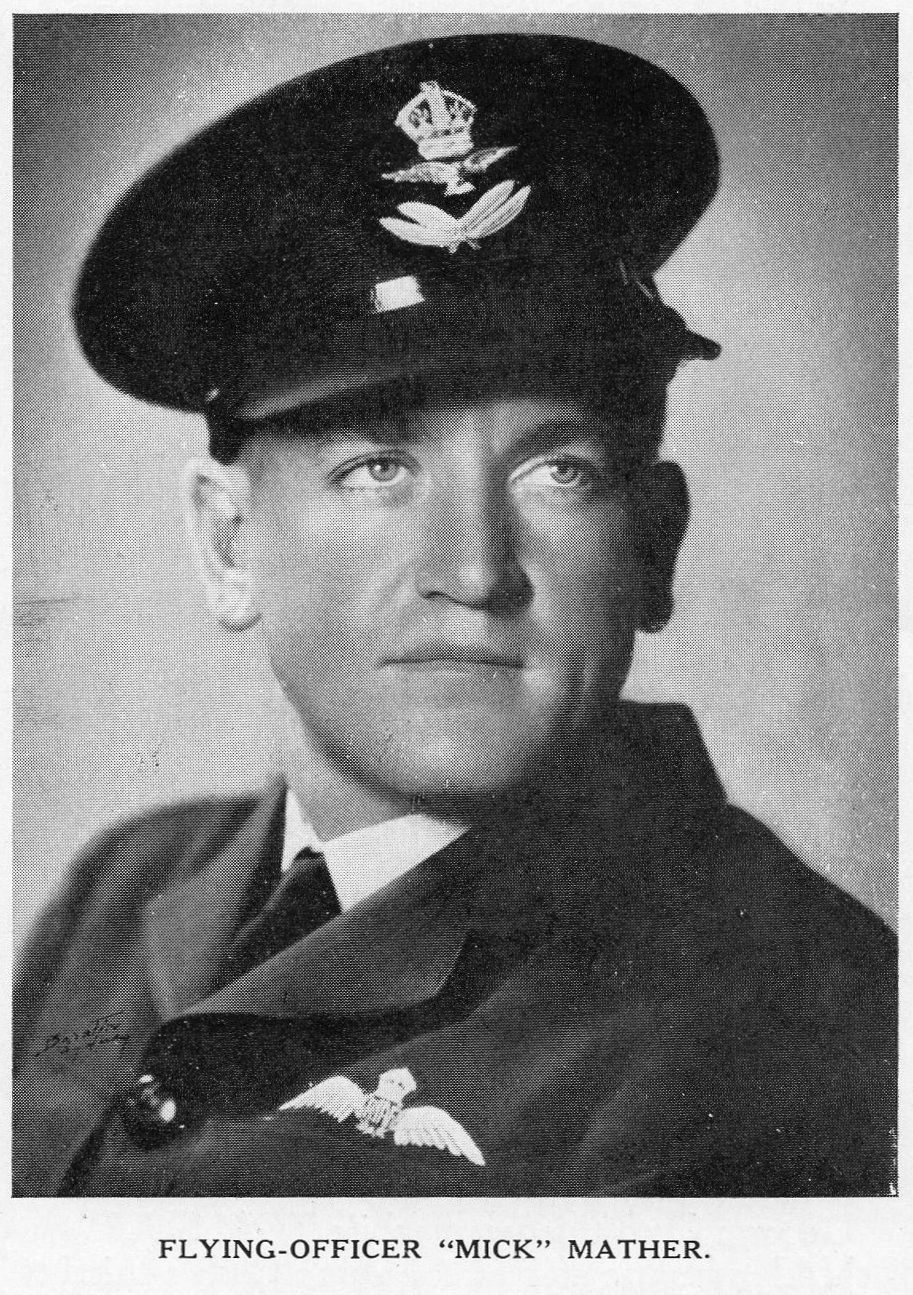 Royal Australian Air Force
Arthur Edward Mather, "Mick" to his mates, was born at Parramatta, Sydney, New South Wales on the 3rd of May 1918. He studied at Marist Brothers High School, Darlinghurst from 1929 to 1933 – passing his intermediate certificate with 1st class in English, Maths (2), Physics and Chemistry in October 1932. He also passed exams in History, Latin, Maths (1) and French. He was a Roman Catholic.
After school, Mather became an apprentice Fitter and Turner – achieving a Higher Trade Certificate in Marine Engineering and Applied Mechanics at Sydney Technical College in 1937. He played 1st Grade Rugby League at South Sydney Football Club and 1st Grade Water Polo at Maroubra Surf Life-Saving Club where he was a club Vice-Captain. Before enlisting in the Air Force, Mather had served as a Lifesaver at Maroubra (where he lived) and was employed as an engineer at H.M. Naval Establishments at Garden Island, Sydney Harbour.
He enrolled in the R.A.A.F. Reserve at Grafton NSW on the 10th of April 1940 and was called to Active Service on the 16th of September of the same year. At the time of his enlistment, Mather's next-of-kin was recorded as being his father, Robert Mather. His next-of-kin later became Coralie Mather, whom he married and had three children with.
After training as a Pilot at Tamworth, New South Wales and Amberley, Queensland, Mather graduated a Pilot Officer on the 5th of May 1941 and embarked for active service overseas. Pilot Officer Mather first served at Bomber Command in the United Kingdom in 1941-42 and from there was posted to the Desert Air Force in North Africa and the Middle East in 1942. Whilst serving in the Middle East he "completed numerous operational sorties" against the German Luftwaffe and received the Distinguished Flying Cross (DFC) for displaying great daring and courage:
"On one occasion he accomplished a daring bombing attack on Tobruk from a height of only 2000 feet [610 metres] as weather at a higher altitude was adverse. As captain of aircraft Flying Officer Mather has displayed outstanding efficiency and determination."
The award of his DFC was announced on the 23rd of January 1943. He returned to Australia in 1943 and served as a Flying Instructor until 1945 [Details pending]. He served in Papua New Guinea in No 33 Squadron from 1945 until the end of the Second World War and was honourably discharged in December 1945.
For 12 months after the war, Mather became a pilot for Australian National Airways (which later merged with Ansett Airways) and actively sought a permanent commission with the R.A.A.F., which he received in 1947.
His career in the Royal Australian Air Force was to last another 26 years, in which he performed many important duties both in Australia and overseas. He was appointed a Chief Flying Instructor and later was the Commanding Officer of several Squadrons. Ultimately he held many high positions within the Department of Air, becoming a Director of several subsequent Departments. As well as receiving the Distinguished Flying Cross in 1943, Mather also received the Air Efficiency Award (AE) and the Air Force Cross (AFC) in 1965 for his part in the successful introduction of the Mirage 1110 Aircraft (nicknamed the French Lady) into the Royal Australian Air Force.
He received 7 promotions – finally being made an Air Commodore in January 1970. He retired from the Royal Australian Air Force on the 3rd of May 1973 after a long and distinguished career of service. He died in Newcastle, New South Wales in 2005 at the age of 87.
Historian: Scott Coleman (photo courtesy of S. Coleman & MCC )
Email: scottandrhondacoleman(a)live.com.au