Captain Reginald Nowland MC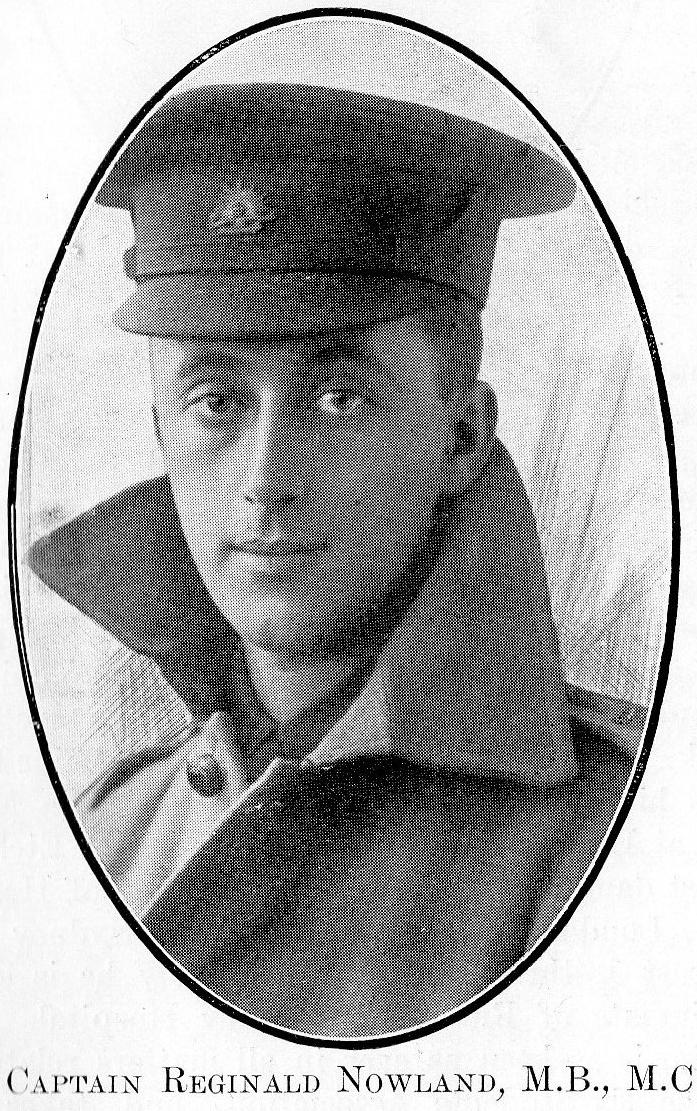 Reginald Edward "Reg" Nowland was born on the 12th of May, 1888 at Burwood, Sydney, the second of four children of John Nowland, a gardener, and Gertrude Balley-King. He was educated by the Marist Brothers at St Mary's Cathedral High School, and later at the University of Sydney, where he studied medicine and graduated with a Bachelor of Medicine degree in 1915. After University he spent two years as a Junior and then Senior resident practitioner at the Royal Prince Alfred Hospital Sydney, gaining extensive experience in the treatment of meningococcal meningitis and anesthetics.
Dr. Nowland enlisted as a Medical Officer in the Australian Army Medical Corps on the 14th of May 1917 aged 29. Just over a month later he embarked overseas from Sydney on the 16th of June 1917 on H.M.A.T. "Beltana," arriving at Plymouth, England in August. Captain Nowland worked in hospitals in England until being sent overseas to France in March 1918. It was in the perilous trenches near Ypres that Captain Nowland showed great gallantry and devotion to duty whilst tending the wounded under heavy fire on the 27th of September 1918;
"…the leading battery… came under heavy shell fire, and suffered many casualties. Ignoring all danger, he [Captain Nowland] established an aid post on the roadside, and attended to the wounded. Later in the day, when batteries moved further forward, he visited all the gun positions, and attended to the wounded."
Captain Nowland was subsequently awarded the Military Cross for his "gallantry and devotion to duty in the field" on the 1st of February 1919. After serving out the remainder of the War overseas, Captain Nowland returned to Australia and his appointment as an Officer of the Medical Corps was terminated on the 20th of December, 1919. A month later on the 12th of January 1920 he married his sweetheart, Anastasia Roche, with whom he had four children.
Dr. Nowland returned to practicing medicine and went on to enjoy a successful career, dying a happy old man on the 16th of August 1971 in Hornsby, Sydney, aged 83. He was laid to rest in the Roman Catholic Section at Macquarie Park Cemetery, North Ryde.
His brother, Dr. Horace Nowland (1886 – 1962), also studied medicine at the University of Sydney after graduating from the Marists Brothers High School at St. Mary's Cathedral, becoming a noted Sydney psychiatrist and businessman.
Photo courtesy of S.D. Coleman & M.C.C. Archives
Historian: Scott Coleman
Email: scottandrhondacoleman(a)live.com.au