Gunner Richard Dennis Stoyles-O'Grady – Awarded the American Silver Star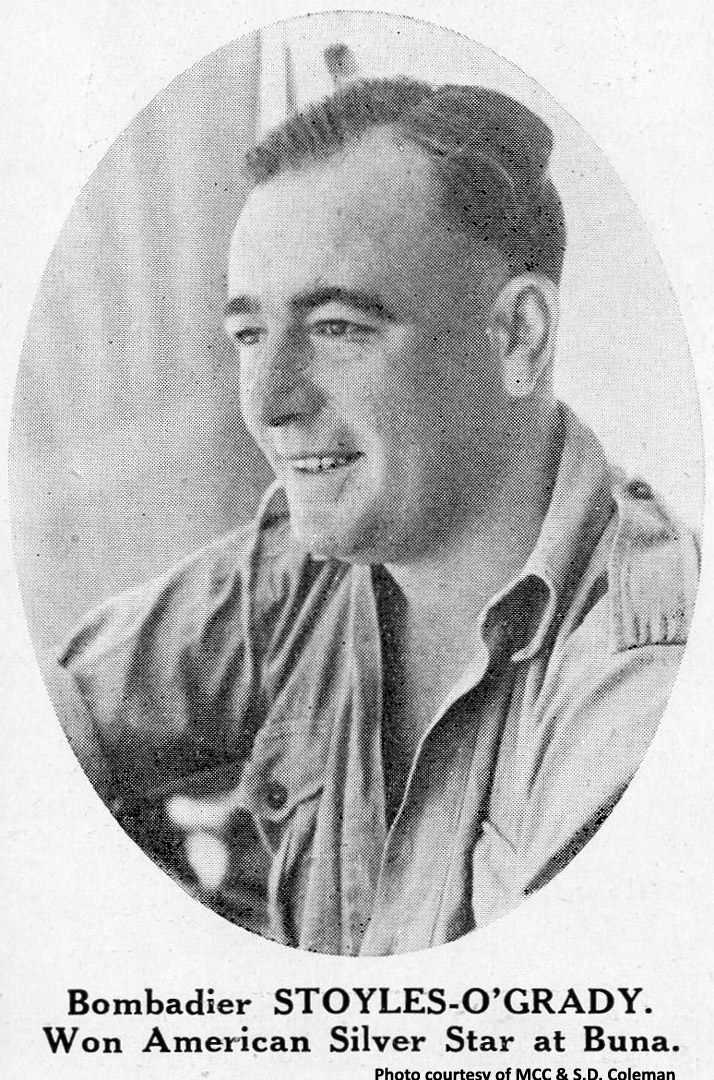 2/1 Field Regiment, Australian Army (if photograph does not display immediately. double click in the photo space)


Richard Dennis Stoyles-O'Grady was born on the 19th of February 1915 in Sydney, New South Wales, son of Mr and Mrs Percy Stoyles. Young Richard was brought up in the Roman Catholic Church and came into Third Class at the Marist Brothers High School at Darlinghurst in 1924. He played lock-forward for Darlinghurst in the First XIII for three seasons and passed the New South Wales Leaving Certificate in 1932.

On the outbreak of the Second World War he enlisted as a Gunner in the Australian Army on the 13th of October, 1939 at Victoria Barracks, Paddington. He took the Oath of Enlistment on the 23rd of that month and was classed fit for service on the front line. At the time of his enlistment he was working as an Estate Agent, was 5 feet 6 ½ inches tall and had brown hair and eyes (he also had a slight scar on his nose and upper lip). He embarked overseas from Sydney on 10th of January 1940 and disembarked at Kantara in the Middle East in mid-February. Gunner Stoyles-O'Grady [hereafter referred to as Gunner Stoyles] served extensively in the Middle East, in places including Palestine, Deir Suneid, Qastina, Haifa, the Suez, Colombo and Ceylon.

In September 1942 he returned to Australia and thence travelled to New Guinea, where he took part in the Battle of Buna-Gona; a major action fought between the Japanese and the Australian and US allied forces between November 1942 and January 1943. The Allies' objective was to capture the Japanese-held beachheads in New Guinea at Buna, Gona and Sanananda, and although casualties were extremely high the Japanese forces were almost totally defeated. During the Battle of Buna-Gona, Gunner Stoyles displayed great gallantry and valour, and as a result General Douglas MacArthur (the allied Supreme Commander, South Pacific Area) awarded Gunner Stoyles the American Silver Star for Valour on the 15th of January 1943. The bravery he displayed in battle was vividly recorded in the Citation for the award of the American Silver Star, which reads as follows;

"CITATION. For gallantry in action near Buna, New Guinea, during the period December 15-29, 1942. While assisting in directing artillery fire against enemy positions, Gunner Stoyles, without regard for his own safety and while under heavy enemy fire, repeatedly helped establish observation posts in the most forward areas and effectively assisted the infantry attack. On several occasions he left our lines and proceeded through enemy-occupied ground to gain information of value to both our infantry and artillery units." (National Archives of Australia).

The Silver Star is the United States of America's third highest military decoration for Valour and is bestowed by the President "For distinguished gallantry in action against an enemy of the United States." Gunner Stoyles returned to Australia in late 1943 and was to serve on the home front for the remainder of the War. He was promoted to Lance Sergeant in July 1944 and was discharged on the 23rd of November 1945 after hostilities had finally ended in the Pacific.

Gunner Stoyles served on continuous Full Time War Service for a total of 2191 days – 1434 of them overseas. His military service did have its colourful moments - he went AWL (Absent Without Leave) several times – but he was a valorous soldier and was decorated accordingly.

Like his father before him, Richard was a community minded man. In 1935 Percy Stoyles had bought a block of land in Brougham Street in Darlinghurst which he donated to the Council for use as a children's playground. For a time it was well run by the Council but it was later neglected and eventually abandoned. When he learned that the Council wanted to sell the land after the War, Richard bought it back in 1948 and set up a playground upon it once again for the use of local children. In the same year Richard Stoyles stood for election to the Sydney City Council as a Social Progress Group candidate, though he was not elected.

After the war Richard Stoyles-O'Grady became a road transport driver. In November 1955 Richard became engaged to Miss Ita Bernadette McMahon, but he died tragically less than a year later after a road accident. Whilst he was driving a truck through Gunning, New South Wales on the 4th of November 1956, the security pin between the trailer and cabin of the truck broke, and he was crushed by the forward lurch of the trailer. Rushed by ambulance to Yass hospital, he was anointed by a priest on arrival and died a few minutes later. Richard Stoyles-O'Grady had been a gallant soldier and popular Old Boy of Marist Darlinghurst, and he was widely mourned by the school community."
Historian: Scott Coleman (photo courtesy of S. Coleman & MCC )
Email: scottandrhondacoleman(a)live.com.au